Ribbed Rubber Elbow – 90 Degree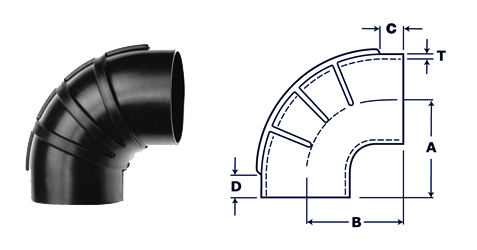 These heavy-duty rubber elbows / air intake hoses have smooth inside surfaces and can minimize flow resistance within the air intake system.
Material: EPDM rubber
Temperature range: -40ºF (-40 ºC) to +212ºF (+100 ºC)
Manufacturing: injection molding or compression molding
Features: Resist tears, punctures and vacuum collapse; Reduce intake noise levels and vibration under severe conditions; Won't harden from exposure to extreme operating temperatures, weather or age.
Hose Styles: Elbows, Hump Hoses, Reducing Elbows, Reducing Hoses, etc.
Part No.
ID
OD
A&B length
C length
D length
Thickness(T)
inch
mm
inch
mm
inch
mm
inch
mm
inch
mm
inch
mm
MAT1-0001
2.00
50.80
2.40
60.96
3.50
88.90
1.50
38.10
1.50
38.10
0.20
5.08
MAT1-0002
2.25
57.15
2.65
67.31
3.75
95.25
1.50
38.10
1.50
38.10
0.20
5.08
MAT1-0003
2.50
63.50
3.00
76.20
4.00
101.60
1.50
38.10
1.50
38.10
0.25
6.35
MAT1-0004
3.00
76.20
3.50
88.90
5.25
133.35
1.75
44.45
1.50
38.10
0.25
6.35
MAT1-0005
3.50
88.90
4.00
101.60
5.50
139.70
1.75
44.45
1.50
38.10
0.25
6.35
MAT1-0006
4.00
101.60
4.50
114.30
5.75
146.05
1.75
44.45
1.50
38.10
0.25
6.35
MAT1-0007
4.50
114.30
5.00
127.00
6.00
152.40
1.75
44.45
1.50
38.10
0.25
6.35
MAT1-0008
5.00
127.00
5.50
139.70
6.12
155.45
1.75
44.45
1.75
44.45
0.25
6.35
MAT1-0009
5.50
139.70
6.00
152.40
6.50
165.10
1.75
44.45
1.75
44.45
0.25
6.35
MAT1-0010
6.00
152.40
6.50
165.10
7.00
177.80
2.25
57.15
2.00
50.80
0.25
6.35
MAT1-0011
6.50
165.10
7.12
180.85
7.62
193.55
2.25
57.15
2.00
50.80
0.31
7.87
MA1-0012
7.00
177.80
7.62
193.55
7.56
192.02
2.25
57.15
2.00
50.80
0.31
7.87
MA1-0013
8.00
203.20
8.75
222.25
8.50
215.90
2.25
57.15
2.25
57.15
0.37
9.40
MA1-0014
10.00
254.00
10.75
273.05
10.50
266.70
2.25
57.15
2.25
57.15
0.37
9.40